The Injiver Ginger Crack Company presents Ginger Bliss Candy and Nectar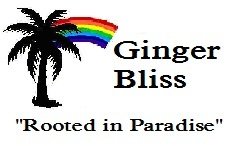 My Story

When I was young, my mom made me ginger tea to cure my stomach ache. She used a family recipe for ginger syrup which she would mix with hot water. In later years I used the recipe to make ginger ale, cocktails and baked goods. On occasion I would make ginger candy. I eventually put a twist on the recipe that made friends and family rave about my drinks and sweets. I used all organic ingredients that weren't around at the time of my mom. The ginger that I use is from Hawaii. I also use organic cane sugar. With much encouragement from people, I decided to share my recipe with you in the form of Ginger Bliss Candy and Nectar. I hope you enjoy it as much as I do.

Philosophy
Our products are made with natural, organic ingredients. They contain no preservatives. They can be used in many ways. We bring the goodness of ginger to you.
Order Information
If you would like to order my products, feel free to send me a note through my 'contact us' page. I will respond to your request as soon as I can.

Look For me next at ....
...the Royal City Farmers Market (Tipperary Park, New Westminster) every Thursday starting June 7th from 3pm - 7pm. Hope to see you there.
Customer Reviews
"This ginger candy is very addictive." -- Julia Wong, Burnaby
"Can I have another ginger martini?" -- Bruce Jones, Vancouver